About us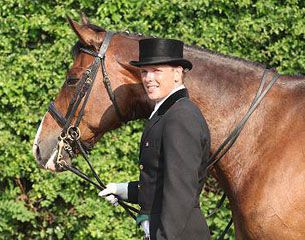 The well established equestrian solutions expert, Peter Tomlinson is one of the leading finders of top equine athletes with 'Find A Dressage Horse'. With extensive equestrian knowledge, equestrian networks of contacts that reach across Europe, USA, Asia, Russia, Peter Tomlinson facilitates selling dressage horses at all levels to discerning buyers throughout the world offering a 'hassle-free' cost effective service
---
The true essence to make this service a successful blend is brought about by not only years of equestrian knowledge developed from years of working in and amongst the industry, but riding dressage at a high level in order to truly master and understand the fine detail of what clients are requiring at all dressage levels and ambitions.  There are many services offered in the equestrian industry, but we provide a unique, rare combination of equestrian dressage ability, equestrian knowledge, access to top breeders and worldwide authentic equestrian relationships to expedite the buying and selling of dressage horses.
We remain aware that our buying clients will have varying levels of ability, ambition, specifications together with the importance of the horses trainability, talent, and temperament are at the forefront of our minds, ensuring the right 'unified' match between horse and dressage rider.
What We Offer
Why not join many of our extremely satisfied clients from house-hold names, to the amateur dressage rider who have experienced our service to find their Dream Dressage Horse. We offer full flexibility to assist in 'end to end' service with the sourcing, test riding, purchasing, vetting, settling in, ongoing maintenance of the horse, in other words we can 'hand-hold' our clients through the whole process, or we can provide a full short list of the selected quality horses to suit a list of requirements, we can go test ride the horses and send video's for further consideration.
Our success is based on our 'tailor-made' service that we offer dressage riders who seek for an efficient, professional solution for riders of all levels from amateur to top professional, as this is the only service that can demonstrate essential documents in proving that quality horses have the right breeding, experience, temperament, competition records, good X-rays that you can trust to back up the process prior to purchase.
We can even short list your defined Dream Horses and then assist in short listing further to find the exact horse for a true connection for the right horse to the right rider.
Expert Advice - we provide a concise and clear process that has proven time and time again to work in finding the 'right' match due to our network of worldwide contacts.
Knowledge - we have collected years of experience amongst top breeders, clients, top named riders, to ensure you have the right quality horse.
Good Value - we understand 'everyone' has a different budget, the price stated is the exact price from the breeder/seller.
Trustworthy - we have years of a proven track record of clients from amateurs to professional top riders who solely now deal with us, this demonstrates that we do what we say, we deliver what we promise.
Proven Quality Horses - all horses we offer come with a comprehensive range of detail, to ensure that what we say is proven.
Full Competition History - all training history and background information is provided, with full competition record history provided.
Full X-rays Provided - full x-rays can be provided on most horses to show that horses are of the high level with good x-rays.
Proven Track Record - years of experience enables us to save you time and money to find the right horse because we have access to established relationships.
Flexible Service 'Tailor Made' Round All Client Requirements - we can select horses with you, for you, shortlist again from selected horses, we can provide whatever level of input you require and need.