Olivi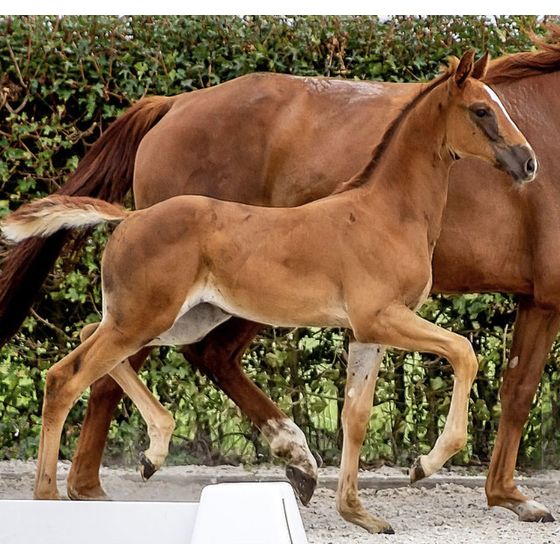 Hometown x Goodtimes x Zirkoon. Filly. Medium/Large
Olivi is a dressage talent for the higher work. She moves with a light-hearted ease and good bend in the joints. She is a foal that descents from a mare line with a lot of horses that perform well in sport. therefore she is very interesting for sport and breeding.
Olivi is an ET foal. The mare in the video is a carrier mare.
Dam is the Elite sport mare U-Vira (by Goodtimes). During her IBOP test she received eights for her walk, trot and canter and she participated in the championsring at the NMK (Dutch Mare Championships) and was successfully competed in the Advanced dressage class. U-Vira produced the mare Dreamgirl P (by Spielberg), which is successfully in the Small Tour.

Grandmother is the keur, preferent, performance mare Elvira by the Grand Prix stallion Zirkoon. Elvira achieved an amazing score of no less than 91 points in her mare performance test! In addition to U-Vira, she produced the Keur, sport mares Nimmyno-Vira (Nimmerdor) and Ozelle-Vira (Flemmingh) and the ZZ-heavy classified horse Watseist (Goodtimes).
Sire is the stallion Hometown (Apache x Ferro). A stallion that has everything for the higher dressage work. He is praised for his very strong hindleg use. A horse with commitment, sensitivity and strength. Under his rider Diederik van Silfhout he claimed the victory during the stallion competition in Zuidbroek the Netherland in the class L with no less than 90 points.

The offspring of Hometown moves uphill with a lot of flexibility.
Height: -
Age: -
Ref: PDS0263
Contact us about this horse...
---
---