The Passing of Karl Mikolka
Posted on May 16, 2019 by Peter
Karl Mikolka, former Chief Rider at the Spanish Riding School and renowned Classic Dressage trainer in the U.S.A., has passed away. He was 83 years old.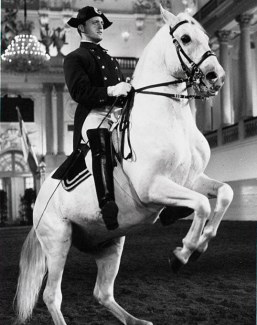 His first came into contact with horses when he was a young boy and helped deliver fresh produces with his neighbour's horse drawn cart. At age 15 he began working at a harness racetrack and, later that year, took his first riding lesson at Reitstall Kottas-Heldenberg, a riding facility owned by an aunt of Arthur Kottas, a former Chief Rider of the Spanish Riding School.
In 1955 Col. Alois Podhajsky, director of the Spanish Riding School, accepted him an "elévé", the lowest rank of rider-employee at the Spanish Riding school, which was then still in exile at Wels in Upper Austria. At the time of Karl's admission, the school was short of riders and Podhajsky brought retired Bereiter Alfred Cerha back into active duty. He became Karl's teacher and within five years, Karl was promoted to Assistant Rider and eventually achieved the rank of Oberreiter, or Chief Rider, in 1967.
In 1968, Karl left the School to accept an invitation in Brazil to create a nucleus of Dressage in Rio de Janeiro and Sao Paulo with the goal to eventually put a team together that could show in Europe. This move marked the beginning of a long separation from his two young sons, Alexander and Günther, who were living in Vienna with their mother and stepfather. At that time, Karl was married to Cindy Sydnor.
In 1972 Karl relocated to the United States where, with the support of Mr. and Mrs. Richard Ulrich, he established a home base at their Friar's Gate Farm in Pembroke, Massachusetts. It was there that Karl founded the Massachusetts Dressage Academy to provide a systematic educational dressage curriculum. By the mid 1970s, he was an AHSA (now known as the USEF) Dressage Judge and served on the judging panels of several Olympic selection trials.
In 1980, Karl moved to Wadsworth, Illinois to join Tempel Farms, which had a Lippizan training programme in the spirit of the Spanish Riding School. In 1994 he became a U.S. citizen.
Karl left Tempel Farms in 1997 and relocated with his wife Lynn to Gloucester, Massachusetts, where he taught the principles of Classical Dressage to riders and horses of all types. Mikolka trained well known American Grand Prix riders such as George Williams, ex-wife Cindy Sydnor, Carole Grant, Bill Warren, and Belinda nairn-Wertman
In 2003, Karl was inducted into the USDF Hall of Fame.
"Since the preservation of Classical Principles was Karl's duty and first concern, he remained steadfast to introducing it to the broadest audience possible, hoping to preserve a System that today is in danger of being suffocated by competitive training techniques," Mikolka's biographer wrote. "He provided his students with a sound foundation for the well-being of their horses and their own benefit, only asking that they carry on and remain loyal to the System. Karl was been fortunate that a few did, and have become credible teachers in their own right."
In 2009 Mikolka was diagnosed with an aggressive form of non-hodgkins cancer, which he successfully battled until his death on 12 May 2019.
---