Hof Kasselmann to Host Second CDI in Corona Year: CDI 4* on 24 - 27 September 2020
Posted on Aug 31, 2020 by Peter
Germany with the first dressage and jumping events in June and July deemed a great success, competitions will continue this September at Hof Kasselmann at Borgberg. From 24-27 September, the Horses and Dreams Entertainment GmbH will present a 4* event.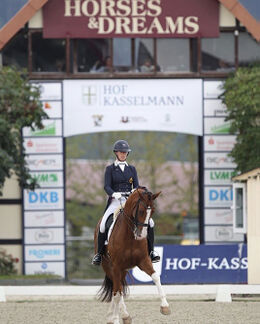 After Donaueschingen in late August this will be the second CDI4 * in Germany since the Corona-forced break.
Scheduled are also a CDI1 * tour and international tests for the Junior, Young Rider and U25 age groups, presenting another opportunity for the younger generation to show their talent in a world class atmosphere.
ADC Amateur Cup at the CDI
Friends of the national amateur sport should also save this date: The traditional ADC Amateur Cup event in April had to be canceled due to the corona pandemic, but the popular final is finally being rescheduled.
The best fifteen combinations from the Ankum Dressage Club qualifiers in autumn 2019 and spring 2020 will be eligible to compete in the Prix St. Georges and the Prix St. Georges Freestyle in the final.
Ankum prepares for the 2020 autumn indoor season!
On 30 September 2020 the Ankum Dressage Club kicks off the indoor season with a six-day show at the P.S.I. Sports and Auction Center in Ankum.
The schedule includes young dressage horse tests at A, L and M level, events for amateurs, junior and pony riders as well as top level Grand Prix and Grand Prix Freestyle competitions.
---