European Championships of Dressage 2021
Posted on Oct 26, 2020 by Peter
European Championships of dressage and jumping will be held in Germany in 2021, a reversal of a decision by the International Equestrian Federation that canceled the events when the Olympics were delayed for a year by the coronavirus pandemic.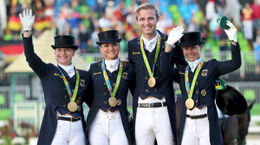 The dressage championships will be staged at Hagen, host show grounds of major international events, Sept. 7-12.
The jumping championships will be at Riesenbeck, home-base of Barcelona 1992 Olympic champion Ludger Beerbaum, Aug. 30-Sept. 4.
The FEI announced the locations and dates following a board meeting to re-consider the decision to cancel the championships. The European Equestrian Federation sought the change after many riders and several national federations criticized the cancellation.
If either of the venues is unable to host the championships, the FEI said, the bid process for 2021 will not be re-opened.
FEI President Ingmar De Vos described the two show grounds as "great venues".
"These championships have really been a great example of the FEI, EEF, the German National Federation, the two organizers and everyone else involved working together to accommodate the wishes of the European national federations and the athletes' community to have these championships next year," he said
---