Dressage world mourns loss of global superstar
Posted on Dec 17, 2020 by Peter
Edward Gal, under whom Totilas set several world records in dressage, made an emotional farewell tribute to the black stallion who died of colic Tuesday at the age of 20.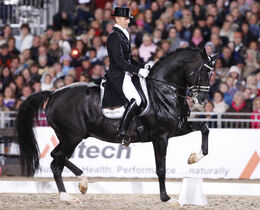 "Farewell, my friend! The sky has gained a new star, but my heart is broken. Rest in peace, Totilas. You will always be remembered. Together with you I have experienced happiness and suffering. Time has healed wounds. But my love for you will last forever. You gave me your trust. You were my friend."
Matthias Alexander Rath, who competed Totilas after Edward, reported to St. Georg magazine that compiled reactions: "It happened last night, but we took our time today to process it.
"He had an operation and even got up again, but didn't make it. He was super fit.
"It's a different level of training outside of sport, you don't train fully for competition. He was fit and healthy the whole time.
"He was in the paddock every day, walking a lot, by hand and under the rider on the gallop. Twenty years is far too early. He wasn't that old yet."
Matthias Alexander Rath and Totilas after their first competition, in Munich, Germany
Totilas was still ridden, mainly by Rath's stepmother and co-owner of the horse, German Olympian Ann-Kathrin Linsenhoff, with Paul Schockemöhle.
"You knew when he was having a good day," Matthias said, "then it just took a click and he piaffed."
Jessica von Bredow-Werndl: "I feel like all the people who were allowed to spend time with Totilas, especially the Linsenhoff/Rath family. But also Edward Gal. I was able to get to know Totilas personally and with his wonderful manner he remains a very big one in all of our hearts."
Carl Hester: "He was a magical horse to whom we all owe so much in the dressage sport, he was beautiful, had an enormous presence and he captivated millions with his performances. I'm glad to have seen it for real."
Dorothee Schneider: "Totilas, what a special horse! For me he has had a lasting impact on our sport in many ways and is one of the horses that gave me goose bumps on several occasions."
Katrina Wüst, chief dressage judge at the next Olympics and a judge at Totila's last appearance in Aachen in 2015: "Totilas opened the door to the level of awareness of dressage sport. On good days, this wonderful stallion could inspire us–under both riders: Edward Gal and Matthias Rath. He was able to pass on his quality and good character to many offspring."
Monica Theodorescu, German team coach: "Sad news. Totilas was a very special horse."
Jonny Hilberath, assistant German team coach: "There was hardly a horse that caused as many emotions for us humans as Totilas, even for non-riders! He brought our sport into the media, touched it, and thereby brought dressage closer to the general public! We owe him unforgettable moments."

Very happy Ann Kathrin Linsenhoff and Paul Schockemöhle after the first competition ride by Matthias Rath on Totilas that they had bought together.
Dr. Dietrich Plewa, FEI 5* five-star judge: "With Totilas, whom I was able to observe from the very beginning of his career, I first associate the concept of a talent of the century, especially for the collective lessons piaffe, passage, pirouettes. On the other hand, my impression of him has always been a bit ambiguous, because with all the expression and all the passion that the horse has brought, and an almost limitless willingness to perform, there was always a bit of a circus in his ideas. As for the sport of dressage, it has certainly contributed to its popularity. Here too, the feeling is unfortunately a bit ambivalent because the rumored price fostered the idea that dressage is something very strange that happens in some elite circles."
Helen Langehanenberg, German Olympian: "When I think of Totilas I always remember how big he looked in the arena with his aura and uphill tendency and how he enchanted the audience. Once you saw him behind the scenes in the stable area, he was the rather unexcited, friendly and relaxed guy who seemed to enjoy the attention calmly."
Klaus Balkenhol, German Olympic champion and former U.S. team coach: "A great horse that deserves a monument."
---