Dr. Wilfried Bechtolsheimer Passed Away
Posted on Apr 23, 2020 by Peter
Dr. Wilfried Bechtolsheimer has passed away in Ascona, Switzerland, on 8 April 2020 following a short illness. He was 71 years old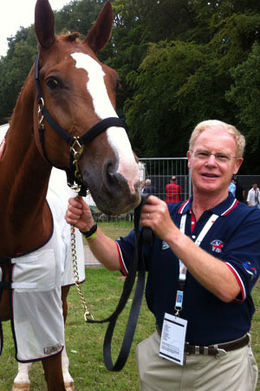 The Bechtolheimer family released a short statement today:
"'We see the sun slowly setting, and we are still surprised when it is suddenly dark.' It is with great sadness and profound regret that we say goodbye to our husband, father, grandfather, trainer, mentor and friend. Dr. Wilfried Otto Bechtolsheimer 14th October 1948 – 8th April 2020."
German born Wilfried Bechtolsheimer studied dentistry and married German Ursula Kipp, heiress of the Massa department store chain and Tschuggen hotel chain in Switzerland.
A Heart for Horses
The couple has always been avid horse lovers and in 1986 they moved from Mainz, Germany and settled into their yard, Eastington Stud, in Ampney St Peter, Cirencester in Great Britain.
Proud of his daughter at the 2009 Europeans in Windsor
Wilfried rode the Oldenburg stallion Giorgione (by Grundstein x Perser xx) on the British team at the 1995 European Dressage Championships in Mondorf Les Bain (LUX) and on the British team in the 1996 CDIO Aachen nations cup. Joined by Ferdi Eilberg, Vicky Thompson and Richard Davison, Bechtolsheimer was second with the team. The pair was also reserve for the 1996 Olympic Games in Atlanta.
Wilfried mentored his daughter Laura and was instrumental in her development as one of Britain's leading dressage riders. He coached her from pony level to Grand Prix. Their efforts culminated in a glorious individual bronze medal at the 2012 Olympic Games in London.
At Eastingston Stud, Wilfried and Ursula also ran a small scale breeding farm which started with their own stallions Giorgione and Polarion. They collaborated with the Oldenburg society and initially invested in a series of broodmares, including Starlight Surprise (by Sion), Deutsche Eiche (by Donnerhall), Sven Rothenberger's Donne, First Lady (by Feiner Stern), Utima (by Landadel), and Wild Rose (by Weltmeyer). Later on Laura's retired sport mares were added to the fold (Unique, Pamina).
Major Supporters of the Sport
The contributions the Bechtolsheimer family has made to the sport of dressage are countless! They have sponsored and financially infused numerous dressage horse shows in the U.K., they supported the Global Dressage Forum and have silently sponsored many dressage related events and initiatives.
"Dr Bechtolsheimer was generous with his time, knowledge and insight," said British Dressage press officier Winnie Murphy. "For four decades, he was one of British dressage's biggest supporters and all in the sport owe him an enormous debt of gratitude. He will be much missed but always held in high esteem and remembered with great fondness."
In June 2006 Wilfried was co-opted on to the Board of British Dressage based on his knowledge and experience in international dressage. He fulfilled that role for one year, resigning in June 2007 due to the pressure of work commitments and the time spent traveling and supporting his daughter Laura.
More importantly they also paid it forward. He is widely credited for launching the career of Carl Hester, as Hester started as a professional rider at Wilfried Bechtolsheimer and his first success in the show ring was thanks to Wilfried and Ursula. The couple bought Rubelit von Unkenruf (by Unkenruf) from Christine Stuckelberger and gave him to Carl. The rising pair competed at the the 1990 World Equestrian Games and 1991 European Championships in Donaueschingen. Dr. B's generosity did not end there. In 1992 he gave Carl the ride on his own stallion Giorgione and Hester competed at the 1992 Olympic Games in Barcelona and captured his first British Grand Prix Champion's title with him.
Reminded of Dr. B's generosity and career making geneDr. B's" example and paid it forward himself, when he gave his own Valegro to his assistant trainer Charlotte Dujardin, which led her to double Olympic gold for Britain (2012, 2016).
Since 2010, Lara Butler (née Griffith) has been part of the Eastington Stud team and Wilfried and Ursula have supported her as mentors and owners, helping her to achieve her ambitions. Success with Rubin al Asad and their homebred Kristjan with Lara riding has given almost as much pride as Laura's own achievements.
Most recently the Bechtolsheimer attended the prize giving ceremony of the London World Cup Qualifier at the Olympia Horse show in December 2019, where they sponsored the Grand Prix.
Jason Brautigam, Chief Executive at British Dressage, said: "Everyone at BD is desperately sad to hear this awful news. Dr Bechtolsheimer has done so much for British Dressage over the years it is hard to overstate his contribution to our sport. Wilfried was hugely respected and very highly regarded by everyone in the dressage community, his immense technical knowledge and expertise was second to none. There have also been so many examples of his incredible generosity in supporting BD, often without public recognition, in his quietly modest and unassuming way. The sport certainly wouldn't be where it is today without Dr Bechtolsheimer's substantial influence and input. Our thoughts and condolences go out to Ursula, Laura and all of his family at this difficult time."
---