Desperados is lost
Posted on Feb 28, 2020 by Peter
German Olympic medal winning Grand Prix rider Kristina Bröring-Sprehe is mourning the sudden loss of her number one horse, Desperados.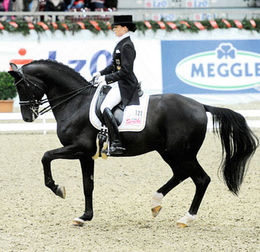 The 19-year old Hanoverian stallion (by De Niro x Wolkenstein II) died suddenly on Friday 14 February 2020.
Sprehe and Desperados won team gold and Grand Prix Special silver at the 2014 World Equestrian Games in Caen, France; team and Grand Prix Special bronze and Kur silver at the 2015 European Championships in Aachen; and team gold and individual bronze at the 2016 Rio Olympics.
The stallion did his last show at the CDI Frankfurt in December 2018, but was not officially retired from sport even though he did not compete in 2019.
On 14 February 2020 Desperados died from an aortic rupture after his morning stud duties. Sprehe was competing his son, Destiny OLD, at the 2020 CDI-W Neumunster and won the Grand Prix for Special that same morning. She has withdrawn from competing him in the Special because of these circumstances.
Kristina took to Facebook and wrote:
"I still can't believe that you are no longer here. Shortly before you were in such good mood and full of strength and then you were gone. I can't express it in words how sad I am. I'm shocked to the core.
Yesterday I was happy about my first Grand Prix win with your son Destiny and shortly afterwards I got the horrible news.
You made my career and I would have loved to given you an honourful retirement from sport and give you a nice retirement, which you so earned. In my head everything was prepared, the pasture behind our new horse and so much more.
You were a fighter, my best friend, my sport partner. You never let me down and I could always rely on you, also when once in a while you were a bit of a macho. You liked the spotlight and knew you were a very special personality.
You are and will be my heart horse. To me you are always the best horse in the world, forever.
Thank you for the beautiful and unforgettable time. We will miss you so much. Rest in Peace, my beloved Despi"
---