Charlotte Dujardin & Mount St. John Freestyle Beat Isabell Werth & Emilio in Lyon World Cup Grand Prix
Posted on Nov 05, 2019 by Peter
LYON, France, Oct. 31, 2019–Charlotte Dujardin and Mount St. John Freestyle, competing for the first time since the European Championships two months ago, posted a clear victory over Isabell Werth on Emilio in the World Cup Grand Prix Friday.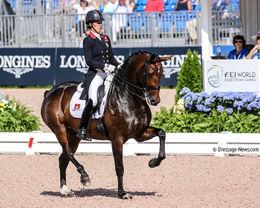 Charlotte and the 10-year-old Hanoverian mare scored 79.978% for the win, the fifth in six starts so far in 2019 for the World Equestrian Games team and individual bronze medal partnership.
Charlotte won the World Cup twice on Valegro, including in Las Vegas in 2015.
Isabell and Emilio, ranked No. 9 in the world, were second on 77.826%. Isabell, who last competed the 13-year-old Westfalen gelding three months ago, needs to show twice on the horse she intends to take to the World Cup Final in Las Vegas to seek a fourth straight championship title. She won her last three on Weihegold OLD.
Germany's Jessica von Bredow-Werndl and Zaire-E were third on 76.435%.
---