Excitement is Growing at the prospect of a new 20,000 seat temporary stadium to be completed in time for the 2018 World Equestrian Games at Tryon International Equestrian Center in North Carolina.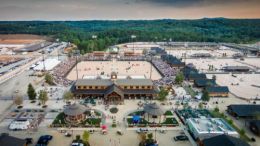 The venue will shortly welcome officials from Europe, North America, South America and Asia who will be informed of progress and updated on the preparations for flying-in over 800 horses. Up to 50,000 people per day are expected to enjoy the world championships so there's huge emphasis on the logistics of the operation, including catering and accommodation.
Stabling and accommodation for riders and grooms as well as facilities for media and officials has all been carefully planned with the partnership of investors (led by Mark Bellissimo) installing a robotic system in their own factory to produce prefabricated accommodation.
The 20,000 seater stadium will be in addition to the George Morris Arena (which will also be expanded to a capacity of around 10,000) and will be fully enclosed on a 13 acre site. The stadium is expected to make use of several new innovations in materials and architecture.
---